Confirmation
When Pentecost day came...they heard what sounded like a powerful wind from heaven...and something appeared to them that seemed like tongues of fire; these separated and came to rest on the head of each of the. They were all filled with the Holy Spirit, and began to speak...

-Acts 2:1-4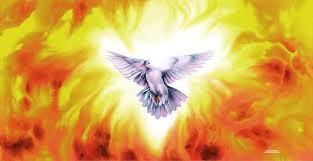 It is evident from its celebration that the effect of the Sacrament of Confirmation is the special outpouring of the Holy Spirit as once granted to the Apostles on the day of Pentecost.
From this fact, Confirmation brings an increase and deepening of baptismal grace:
it roots us more deeply in the divine filiation which makes us cry, "Abba! Father!" (Romans 8:15);
it unites us more firmly to Christ;
it increases the gifts of the Holy Spirit in us;
it renders our bond with the Church more perfect;
it gives us a special strength of the Holy Spirit to spread and defend the faith by word and action as true witnesses of Christ, to confess the name of Christ boldly, and never to be ashamed of the Cross.
Recall then that you have received the spiritual seal, the spirit of wisdom and understanding, the spirit of right judgment and courage, the spirit of knowledge and reverence, the spirit of holy fear in God's presence. Guard what you have received. God the Father has marked you with his sign; Christ the Lord has confirmed you and has placed his pledge, the Spirit, in your hearts.
Holy Trinity Parish Confirmation Preparation
In our Parish, the Sacrament of Confirmation is prepared for in union with preparation for the reception of First Eucharist. The Restored Order of the Sacraments of Initiation (ie, baptism, confirmation, eucharist) emphasizes that our baptismal rebirth is perfected by a unique outpouring of the Holy Spirit in Confirmation. Our full incorporation into the life of Christ and his Body, the Church, is then given full expression when we share in the eucharistic body and blood of the Risen Lord with the entire Catholic faith community.
For more information about Confirmation/Eucharist preparation at Holy Trinity Parish, contact the Parish Office.
The Sacrament of Confirmation as described by Fr. Raphael Mary of the Catholic Newman Center at the University of Washington.
Mass Schedule
English
Thu

8:30am

Fri

8:30am

Sat

5:00pm

Sun

9:00am

,

11:00am

Mon
No Mass
Tue

7:00pm

Wed

8:30am
Vietnamese
All Services